About the show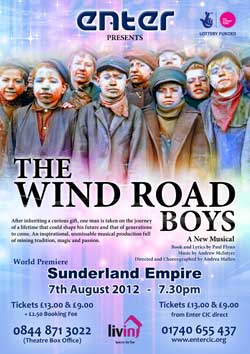 After inheriting a curious gift, one man is taken on the journey of a lifetime that could shape his future and that of generations to come. This is an inspirational, unmissable musical production full of mining tradition, magic and passion.
The show truly celebrates mining heritage and demonstrates what happens when communities unite to build a better tomorrow.
The Wind Road Boys had its opening night at Sunderland Empire Theatre. The creative team and cast knew they had something special, but no one could have prepared them for the impact, or the response that the production would receive. As soon as the curtain went up it was clear this was going to be no ordinary night. The sharp intake of breath when the cast switched on their miner's lamps in the opening number was amazing.
The audience's eyes glistened and there was silence in the auditorium as everyone listened intently to the storyline. It was a storyline that many of the audience recognised. A story that focused on the humour, sadness and sense of loss experienced by many mining communities around the world.
On the opening night there was over one thousand audience members and as the curtain came down the cast received an immediate standing ovation. Many of the audience were crying tears of joy having been swept along by the emotional storyline and anthem-style music.
The Wind Road Boys has since toured across a number of venues in the North East. It has played in The Gala Theatre, Durham and most recently extracts were performed at Durham Cathedral.